There's never been a point where I thought it would really happen. Of course…I believed it could, but it seemed so unlikely…so far away. It seemed like such an impossible scenario. Almost like…the playoffs were only meant for the Patriots, Packers, etc, or that they weren't real at all. It was always, "maybe next year!"…"Next year will be the year!"…"Oh…watch out for the Bills!" All of those remarks were shot down by lost hopes in mid-November. The playoffs were where the "good" teams played. The drought was a Buffalo trademark, and for younger fans, it's all we've ever known.
I'm 18 years old, which makes me a young Bills fan, and one of the many kids who never knew what a Bills playoff looked like. I was 11 months old the last time Buffalo played a playoff game. The Music City Miracle, as all of you remember (clearly better than I would!). Despite me being 18 years old, and knowing only a handful of years of the drought, I felt the pain. I watched my grandfather, every year, say "This is the year!" only to go back on those statements with "We need a new coach, and a new quarterback." I watched my father often times not even tune in simply because of the disappointment the Bills would provide every other Sunday. I would go on Twitter and Facebook after each game, only to see the fans berating the franchise, tearing down everything as an organization…you get the idea. As a young fan, I'm always positive…always knowing that if this team played their best, they never were truly that bad. Maybe I haven't suffered enough heartbreak yet! I knew the day would come that they'd make it, but it still always seemed so far-fetched. But…not anymore…the Buffalo Bills have made the playoffs.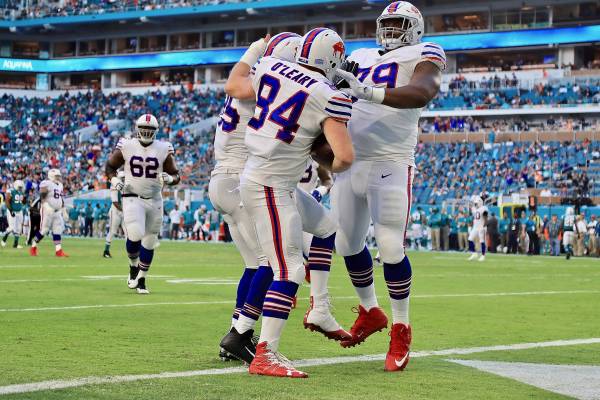 It's funny…because there was a point where I hated the Bills. I feel as if every child is a huge bandwagon fan. They're taught to root for winners. The "good guys" always win, and if you lose, who wants to associate themselves with that? 5 to 11 year old me was always rooting against the Bills, hating them, roasting any Bills fans I knew…including family members. I hated them and football. Period. Then…Fitzpatrick had the Bills on his back after a victory against the Patriots in 2011. Maybe…just maybe…this team was for real. Everybody hopped on the wagon, and despite the Bills finishing that season 6-10, I never fell off. I bled blue and red since then, and I'm proud to say that I have.
I almost feel as if a young fan can appreciate the playoffs more than someone who's been around longer, because despite the Superbowl heartbreaks…at least they saw the Bills in that situation! I've never known anything except losing. The best I got was a 9-7 record with Kyle Orton and Doug Marrone. Losing was always tough, and it was all I knew, but it had to get better someday.
And it did. Sean McDermott came along. Brandon Beane came along. They owned the drought, they made some ridiculously good free agent signings and draft choices. They managed to get the team to buy into a "playoff calibre" culture. Everyone bought in. It wasn't just a motto or mantra. It was a work ethic…a rule. While I never expected our playoff hopes to rest on the arm of Andy Dalton, I must say that it was as exciting of a berth as any could've been. For that final drive; Andy Dalton, Tyler Boyd, and the Bengals…were the Buffalo Bills in our hearts. With tears in my eyes, as well as my grandfather's, 2 separate generations watched the drought finally get put to rest. The cloud broke, and the "playoff rain" (probably lake effect snow in this case) ran free over Buffalo.
On a less sappy note…it's time Buffalo! This is hopefully just the beginning. It's time to get what we've wanted all this time, and this is no time to stop. Buffalo has a shot this Sunday against their former coach, and I think it will be a playoff matchup for the Buffalo history books. The 1st playoff game in 17 years. Thank you all so much for reading, and as always, let's go Buffalo!