Going into halftime, Bills rookie head coach Sean McDermott said, "It seemed like we couldn't get into a rhythm" Uhh…ya think, Sean? I do not get worked up over preseason games (no game planning, vanilla schemes, etc.) but there are some aspects of the game tonight that should cause some pause.
Penalties: At the end of last year, the tune around here was that Rex Ryan's team was undisciplined and the Bills needed a culture and accountability change. Well, that hasn't happened throughout two preseason games. In fact, in the first two preseason games under Rex, the Bills were called for 22 penalties. This year, through two games, McDermott's Bills have been called for 24 penalties. Tonight alone the Bills had 15 penalties for 131 yards. That is more penalties than from any game last year. Although the games don't officially count, this is not a good look for the Bills. Especially since McDermott made a point to focus on penalties since the first preseason game. Maybe McDermott should consider hiring refs to work practice, as they have in the past.
1st Team Offense (especially WR and OL): Bad. Really bad. Except for LeSean McCoy, which should come as no surprise. Although I can't blame Tyrod Taylor for all of this. He has been put in a situation where every starting wide receiver on the team have caught a grand total of zero balls from Tyrod Taylor. His top 2 receivers (Matthews and Boldin) literally just got the handbook last week. There were a few occasions where Boldin was lining up on the wrong side of the ball, which can't be a good sign.
Also, I don't know what has happened to the offensive line, but through two weeks of the preseason, things do not look good for this unit. Tyrod was constantly under pressure and was clearly not comfortable all night. It is possible that the Cordy Glenn injury has a domino effect on the rest of the line. Let's hope that the foot injury that has Glenn week-to-week heals up before week 1.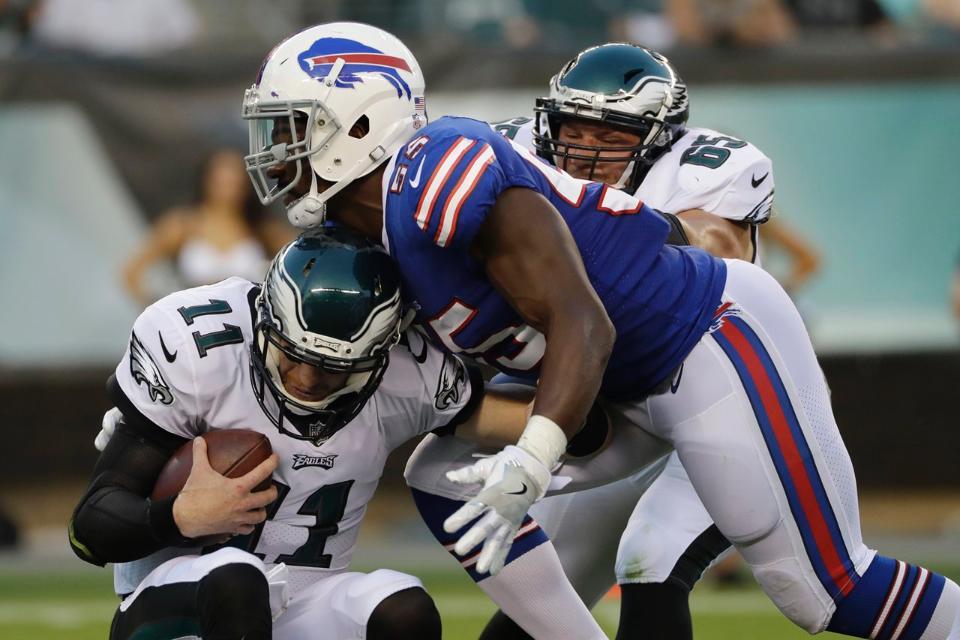 Run Defense: I believe that if the Bills' defense was better last year, then Rex Ryan would still be the head coach. The run defense gave up 200 yards rushing three times last year, being on the wrong end of records along the way. The run defense was shredded last year, and that was mainly due to players being forced into a scheme that was not right for them.
The scheme is back to being ideal for the players on the roster, and through two preseason games, the proof is in the pudding for the run defense. This will be a solid unit this year.
Nathan Peterman: Tyrod Taylor had a 12.0 QB rating tonight. Nathan Peterman had a 79 QB rating. **Insert eyeball emoji** I'm not sure that Tyrod's job deserves to be in jeopardy, as I'm sure many fans will be calling for this week. But, I do think that the Watkins trade last week opened the door for these types of questions to be raised. If the Bills really are in evaluation mode, with an eye on the future, we may see Peterman at some point this year. He played well tonight and I am confident with Peterman being the backup QB.
Overall, not a good night for the Bills in the areas that matter (starting offense and penalties). Preseason game 3 has always been the dress rehearsal for teams, let's hope the Bills offense has a better showing next Saturday night in Baltimore.